Medical Content Integration
Educate and Engage Your Patients Online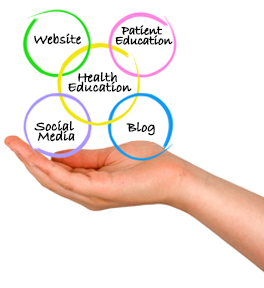 Your Practice Online built its e-business model on providing easy content solutions for the fast-paced healthcare marketplace. Creating quality patient-friendly content for your practice is a crucial method for marketing your services and procedures to an ever-growing local and global online community.
Your Practice Online provides content written by medical professionals, for medical professionals. Our team is dedicated to supporting your content marketing strategy of engaging and educating the healthcare consumer.
What is Content Marketing and how does it affect my practice?
Content Marketing is defined as a marketing technique of sharing media and published content online to attract and acquire a clearly defined audience. The goal of healthcare content marketing is to increase new patients and retain current patients by engaging health consumers with meaningful health education information. Successful medical content marketing strategies provide healthcare consumers with high-quality content that helps to educate and provide treatment options.

Leveraging content marketing can help healthcare professionals engage consumers on a deeper level, positioning themselves as the provider of choice. Housing meaningful content within your practice website keeps your new and existing patients engaged and educated on procedures and medical solutions.